Car Styling Wrap Glossy Tiffany Bule Car Vinyl film Body Sticker Car Wrap With Air Free Bubble For Vehiche Motorcycle1.52*20M/Roll
0
stars, based on
0
reviews
Price:
$187.00 / roll
Save 10% at checkout !
Contact Us
Car Styling Wrap Glossy Tiffany Bule Car Vinyl film Body Sticker Car Wrap With Air Free Bubble For Vehiche Motorcycle 1.52*20M /Roll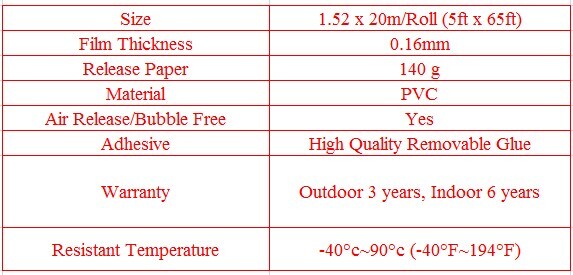 Features:
1. This vinyl film is stretchable, can be re-lifted, repositioned and stretched with heat gun, can be applied on the whole car(interior and exterior surface), motorcycle or the furniture or the digital product, Anything you like, Just use your imagination!
2. High quality glue, Do no harm to your car paint, without any residual glue would be left on the car after remove the vinyl, your car will look like a brand new car even many years later.
3.Backside of the vinyl is with Air Drain/Air Release/Air Free Bubbles, make it easy to wrap and REFUSE the bubbles.
4.Protect your car from UV rays, Dirt, Grease, Mild Acids. Decorate your car nicely and also protect your car perfectly. Killing two birds with one stone.
Installation Tips:
1.Cleaning the surface with rubbing alcohol prior to installing the vinyl will help with adhesion and clean any contaminants that may cause imperfections.
2.Using a heat gun can aid in the installation by making the vinyl more pliable and also help remove wrinkles
3.Using a soft rubber squeegee will help smooth out bubbles and wrinkles
After installtion, do not put it under stronge sun in 24 hours and do not wash your car in 48 hours.