for Hyundai Sonata 2010-2014 Android 10 car stereo radio Bluetooth GPS navigation multimedia head unit player
0
stars, based on
0
reviews
Price:
$56.97 / set
Save 10% at checkout !
RAM+ROM

Quad Core 1G+16G
Quad Core 2G+32G
Octa Core 3G+32G
Octa Core 4G+64G
Octa Core 6G+128G
Contact Us
Item specifics
Operating System:
Android
Features:
bluetooth,Mobile Phone,Radio Tuner,Touch Screen,Built-In Speaker/Microphone,Wifi Function,Support Steering Wheel Control
Digital Media Format:
JPEG,MP3,MP4,WMA
Resolution:
1024*600 / 1280*720
Android Quad/Octa Core 1G/2G/3G/4G/6G Ram 16G/32G/64G/128G Rom Car GPS Navigation Multimedia Player
Car Stereo For Hyundai Sonata 2010-2014 Radio Headunit Device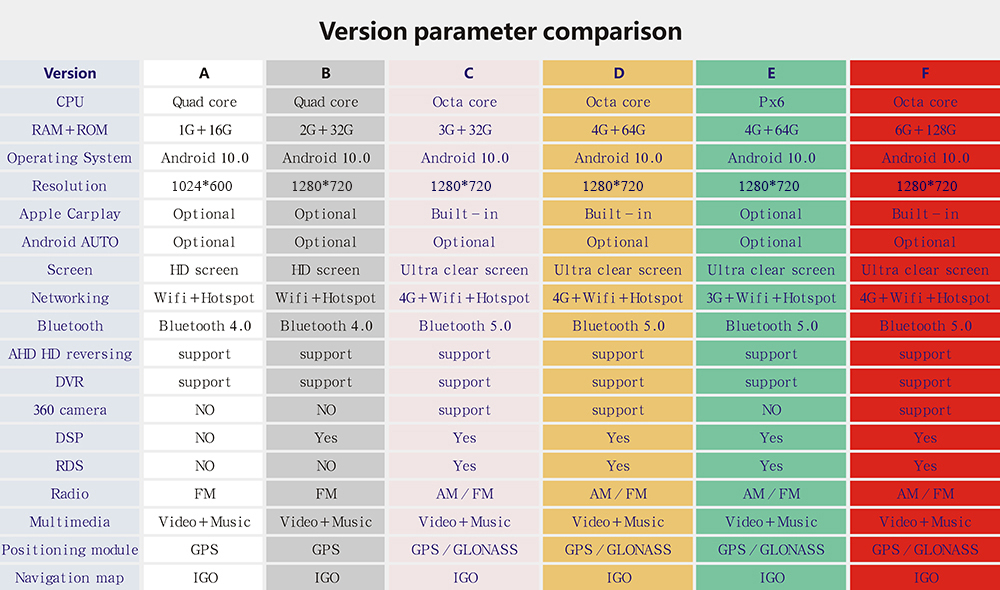 Suitable For Car:
For Hyundai Sonata 2010 2011 2012 2013 2014
Canbus(Optional): Support the original factory amplifier or GPS or factory screen. If you need it, please click this link. CANBUS BOX

Important Note To Europe Buyer:
1. the price in the link is not include tax to Europe,You must pay high Tax Fee by Yourselves,customs clearance and pay tax or VAT are the obligation of the buyer !
2. We have a shipping way that we could pay $25 advance and you donot pay it , if you want to use this shipping way, you can pay the extra shipping cost to us.
But It is just fit for Austria,Beluium,Ireland,Denmark, France,Filand,Netherlands,Luxembourg,Portugal,Sweden,Spain,Greece,
Italy,United Kingdom,Germany,Poland,Czech Republic,Hungary,Estonia,
Bulgaria,Latvia,Lithuania,Romania,Slovak,Slovenia.
Free Tax Extra Cost link as follow :
Versions to choose:
A:Quad Core 1+16 Version: Android 10.0 +Quad Core +1G Ram+16G Rom+2.5D +IPS+Mirror link+Video Output
B: Quad Core 2+32 Version: Android 10.0 +Quad Core + 2G Ram+32G Rom+2.5D +IPS +DSP +Mirror link+ AHD-1080P Video input
C: Octa Core 3+32 Version: Android 10.0+Octa Core + 3G Ram+32G Rom+2.5D +IPS +Amplifer IC TDA 7851 +DSP + Carplay+4G Network + AHD-1080P Video input + Video Output +RDS+Mirror link
D/F: Octa Core 4+64 / 6+128 Version: Android 10.0+Octa Core + 4G Ram/ 6G Ram+64G Rom/ 128G Rom+2.5D +IPS +Amplifer IC TDA 7851 +DSP + Carplay+4G Network + AHD-1080P Video input + Video Output +RDS+Mirror link
Note To All Buyer:

A: 3G+32G/ 4G+64G/ 6G+128G Version Price is including the CarPlay and DSP Function
B: 1G+16G/ 2G+32G Version need CarPlay Function , Pls buy External Carplay through Follow link:
Note :
4G Network Frequency band and Chip :
LTE FDD: B1/B3/B8
LTE TDD: B38/B39/B40/B41
WCDMA: B1/B8 TD-SCDMA:B34/B39
BC0 CDMA2000 1X/EVDO
GSM: 900/1800
4G Network currently working countries are: Romania, Moldova, Japan, Vietnam, Russia, Singapore, Indonesia, United Kingdom, Ecuador, South Korea, Portugal, Brazil, Philippines, Togo, Qatar, Burkina Faso
Advantages:
1.The GPS navigation supports 4G (4+64G/6+128G Version)/Wifi and Bluetooth: You can enjoy Online Entertainment (support online video(HD), TV, movie, music, radio, YouTube, Yahoo, MSN...) and Online Communication,surfing online and watch video on this vehicle multimedia player,give you more fun when you driving.
2. The GPS navigation supports VOICE PROMPT : We will attach the newest map of your country. With the voice navigation, you never will be lost on travelling, bring safety to you and your family.
3. 16G/32G/64G/128G Rom+1G/2G/3G/4G/6G Ram Android Car Stereo: large memory make the latest android system smooth and steady. This car radio supports digital TV, Car rear view camera,DVR,OBD....More optional functions give you better experience.
4.Mirrorlink is builtin the car multimedia player:you can operate mobile APPs on the screen of headunits with wireless connection, more convenient.
5. The Deckless Car Multimedia player is Plug and Play:The device will come with all necessary cables,it is easy to install and no need to cut cables plug and play, 1 year warranty.
Systems and Hardware Parameters:
1. Operation system:Android 10.0
2. CPU: Quad/ Octa Core A3/A5/A7
3. GPU: Double Mali400 Support OpenGL ES 2.0/ VG 1.1
4. RAM: 1G/2G/3G/4G/6G
5. ROM: 16G/32G/64G/128G
6. Amplifer IC TDA 7850 (4+64G/6+128G Version )
7. Screen : 9"/10" IPS + 2.5D Screen
8. Solution: 1024*600/ 1280*720
9. Amplifier Power supply: 4*45W
10. Video/Picture Format: Mpeg1, Mpeg2, Mpeg4 SP/ ASP GMC, XVID, H.263, H.264, BP/ MP/ HP, WMV7/ 8, WMV9/ VC1 BP/ MP/ AP, VP6/ 8, AVS, JPEG/ MJPEG
11. Audio Formart: MP3, WMA, MP2, OGG, AAC, M4A, MA4, FLAC, APE, 3GP, WAV
12. Positioning system: Support GPS/ BPS/ Glonass/ Galileo positioning system
13. WIFI/4G (4+64G/6+128G Version ) :Build in WIFI / Support 4G Model
14. DVR: CVBS OR USB Camera/ Support 1080P Video recoder
15. HD Camera Input: Support BT656 / MIPI /AHD-1080P (4+64G/6+128G Version )
16. DSP Audio: 32S Port (4+64G/6+128G Version )
17. Bluetooth: WT200 4.0/ 5.0
18.Support Steering wheel control
19. Carplay (4+64G/6+128G Version )
20. Frenqency Range: FM:76.0MHz-108.0MHz; AM: 522KHz-1620KHz
21. Supporting language: English/ Russian/ French/ German/ Spanish/ Italian/Arabic/Portuguese/Turkish/Thai/Polish/Hebrew etc. over 20 kinds language
Optional parts:
Optional parts' link as follow

DVB-T(HD) (Compatible MPEG2 & MPEG4)
DVB-T2 ( TV-BOX) (Russian special digital TV)