1Din Android Car Radio 7/9/10/10.33 Inch Automotive Multimedia GPS Navigation Carplay Android Auto DVD Player Audio Stereo DSP
0
stars, based on
0
reviews
Price:
$47.10 / piece
Save 10% at checkout !
RAM+ROM

7inch Quad 1G 32G
7Quad1G 32G carplay
7inch Quad 2G 32G
7Quad 2G 32G carplay
7inch Octa 3G 32G
9inch Quad 1G 32G
9Quad1G 32G carplay
9inch Quad 2G 32G
9Quad2G 32G carplay
9inch Octa 3G 32G
10inch Quad 1G 32G
10Quad1G 32G carplay
10inch Quad 2G 32G
10Quad2G 32G carplay
10inch Octa 3G 32G
Contact Us
Item specifics
Category:
Car Radio GPS Player
Special Feature:
Wifi Function,Support Steering Wheel Control,Built-In Speaker/Microphone
Operating System:
Android
Item Size:
7/9/10/10.33/13.1 inch
Special Features:
Mobile Phone,Built-in GPS
Digital Media Format:
Mp3,WMA,MP4,JPEG
OSD Language:
Czech,Lithuanian,Urdu India,Albanian,English,Dutch,Icelandic,Catalan,Romanian,Vietnamese,Swahili,Croatian,German,Malay,Finnish,Georgian,Galicia,Hungarian,Spain's Basque,Estonian,Japanese,Maltese,Hebrew,Macedonian,Chinese (Traditional),Portuguese,Norwegian,PERSIAN,Slovenian,Yiddish,Bulgarian,French,Indonesia,Filipino,Turkish,Polish,Serbian,Irish,Hindi,Chinese (Simplified),Swedish,Russian,Welsh,Azeri,Armenian,Arabic,Boolean text (Dutch South Africa),Ukrainian,Spanish,Thai,Latvian,Greek,Slovak,ITALIAN,Latin,Haitian Creole,Danish,Belarusian,Korean
Resolution:
1024*600/1280*720
Display Size:
10.25,7,9,10
For Vehicle Brands/Model:
universal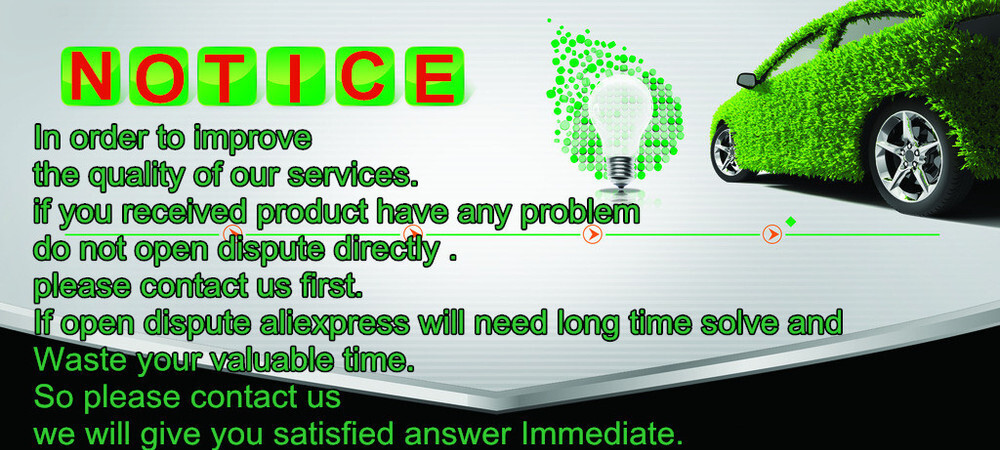 NOTE: If you need 10.33 Inch or 13.1 Inch Screen, Pls click this link to buy:
7/9/10/10.33/13.1 Inch Car Radio 1 Din Android Multimedia Navigation GPS Deckless DVD Player Audio Stereo Headunit Carplay Android Auto Bluetooth DSP
Suitable For Car:
For Universal 7/9/10/10.33/13.1 Inch car radio
Certifications: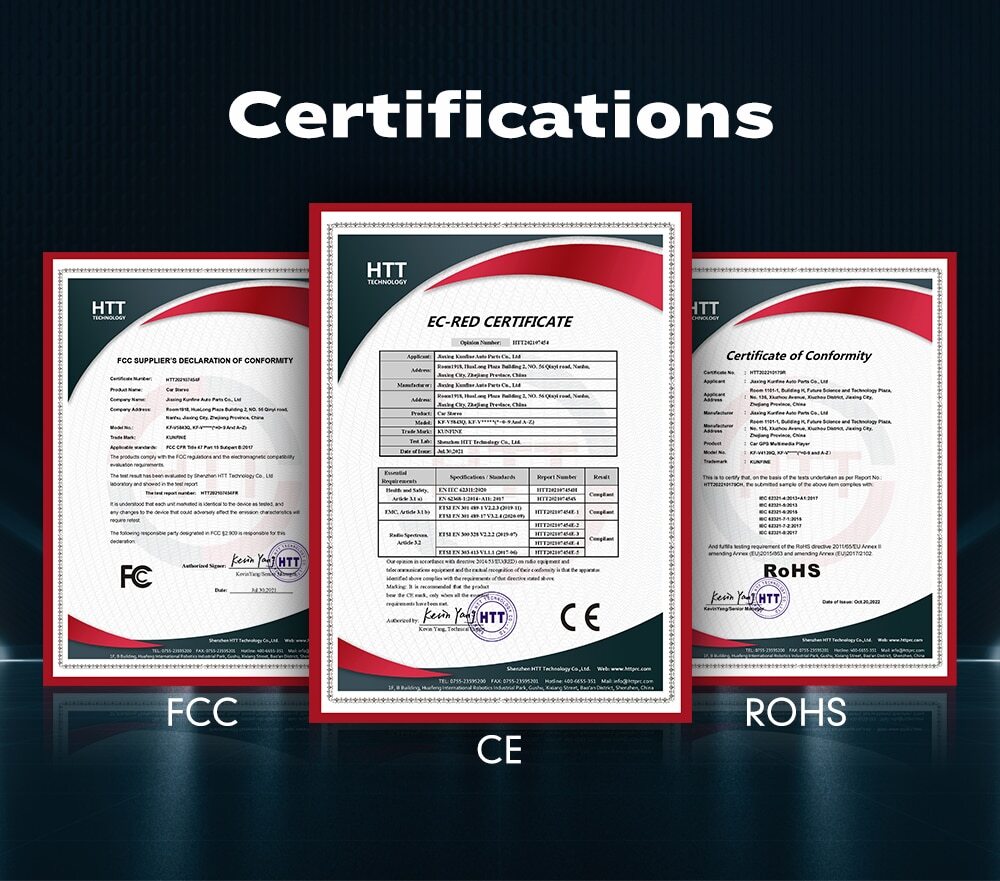 About US: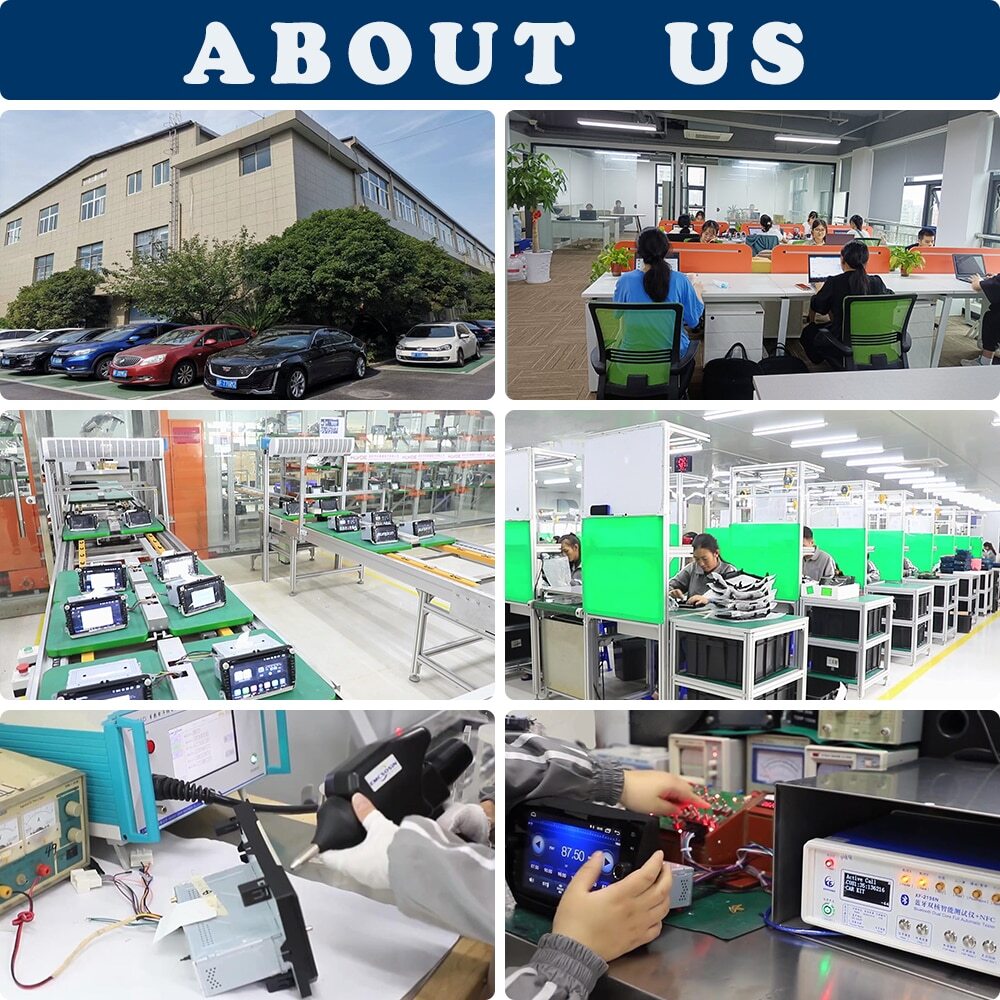 Different Version to Choose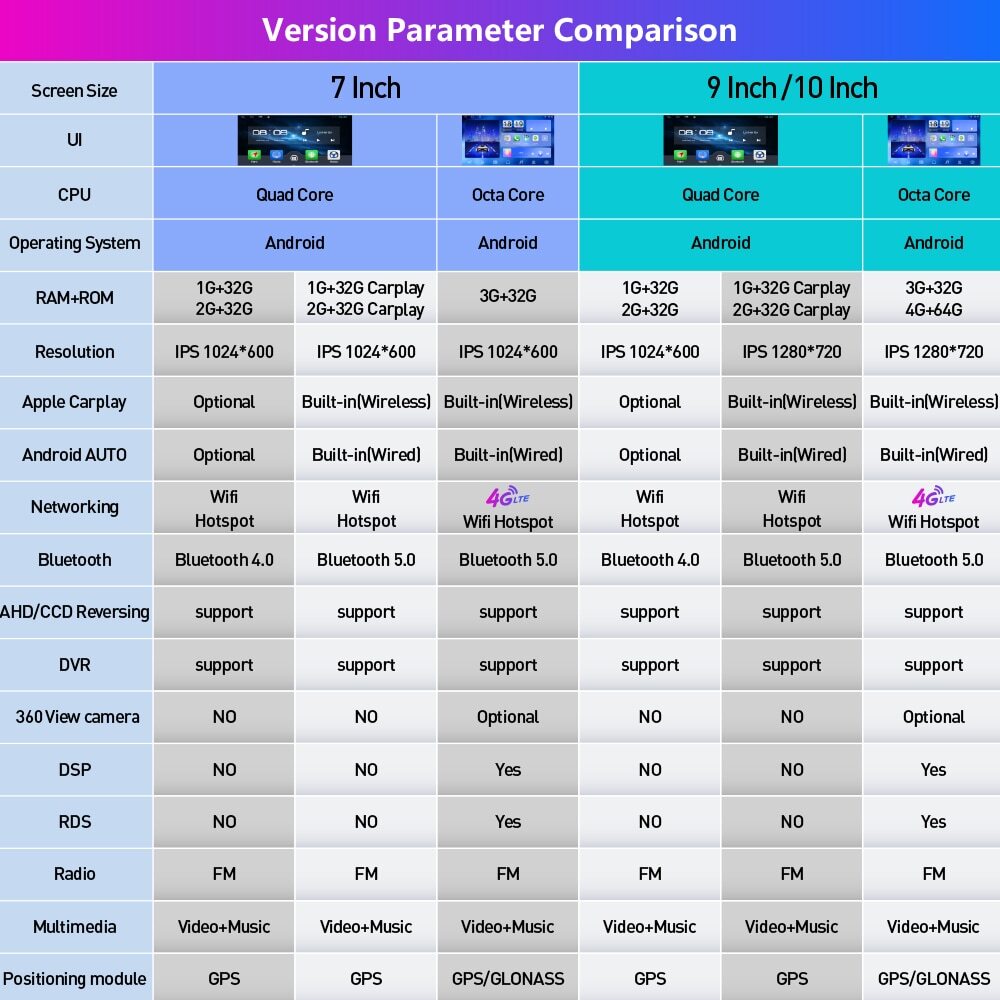 Product Description:
Quad Core 1G+32G/1G+32G Carplay/2G+32G/2G+32G Carplay Version:
1.CPU: Intel ATOM 4 Quad Core
2.Main Frequency: 1.3GHz
3.Screen size: 7/9/10/10.33/13.1 inch
4.Built-in GPS navigation, microphone, BT, support voice call and A2DP, can play stereo music through BT from your Phone
5.Built-in wifi, support wireless internet and hot-spot sharing; built-in Mirror Link ( android and iPhone )
6.Support capacitive screen multi-touch screen, more sensitive touch response
7.Support BT phonebook search, A2DP, OBD2, mouse control, keyboard and external auxiliary equipment
8.Support 2 USB input, 1080P hardware decoding and all format of audio play, TEF6621 stereo, FM range receiver
9.Support USB interface camera, USB DVR, car reverse camera, steering wheel control
Octa Core 3G+32G/4G+64G Version:
1.CPU: Octa-UIS8581A/UIS7862 Main Frequency: 1.6GHz/1.8GHz
2.Screen size: 7/9/10/10.33/13.1 inch
3.Display: IPS Display+2.5D G+G capacitive touch screen
4.Support resolution: 1024*600/1280*720/QLED 1600*720/1920*1200
5.Radio:
AM frequency range: 522-1620 (Europe), 530-1710 (America), 522-1620 (Russia)
FM frequency range: 87.5-108 (Europe), 87.5-107.9 (America), 65.0-108.0 (Russia)
6.DSP: High-fidelity, low-noise DSP with 32-band EQ, surround sound, independent adjustment of front and rear sound)
7.Built-in GPS navigation and GLONASS dual satellite positioning, built-in BT and wifi
8.Built in mic/Apple Carplay/Android Auto, built-in Mirror Link (Android and iPhone)
9.Network 4G TD-LTE/FDD-LTE/TD-SCDMA/HSPA(+)/WCDMA/HSPA(+)/GSM/GPRS/EDGE
10.Support audio formats: MP3, WMA, WAV, OGG,etc media formats (Support 1080P multimedia video playback, lossless audio playback)
11.Support 1080p HD video(MPEG-1, MPEG-2, MPEG-4, H.263, H.264, AVS, VC-1, VP8, MVC)
12.Support BT audio player/Phone Book function (Attention: This function can only be realized when the mobile phone supports BT Audio
Output/Contacts Output)
13.Audio output: 3 channels of audio output, support after-market subwoofer audio output, EQ Max audio output: 4*45W/4x50W
14.Video output: Support 1 channels of video output
15.Video input: Support AHD, TVI video input, RCA type reverse camera input, automatically switch to rear camera when reversing the
car/ Support BT656 / MIPI or 360 panorama
Advantages:
1.The Deckless Car DVD Player supports Wifi and BT: You can enjoy Online Entertainment (support online video(HD), TV, movie,music, radio, YouTube, Yahoo, MSN...) and Online Communication (Web Chat, Twitter, Face book, Google+, Gtalk, Gmail and other services), surfing online and watch video on this vehicle multimedia player, give you more fun when you driving.
2.The GPS navigation supports VOICE PROMPT: With the voice navigation, you never will be lost on travelling, bring safety to you and your family.
3.Car DVD Stereo: large memory make the latest android system smooth and steady. This car radio supports digital TV, Car rear view camera, DVR, OBD....More optional functions give you better experience.
4.Mirror link is built-in the Car multimedia player: You can operate mobile APPs on the screen of head units with wireless connection, more convenient.
5.The Deckless Car DVD unit is Plug and Play: The Indash navigation will come with all necessary cables, it is easy to install and no need to cut cables,
and support 1 year warranty.

Package Contains: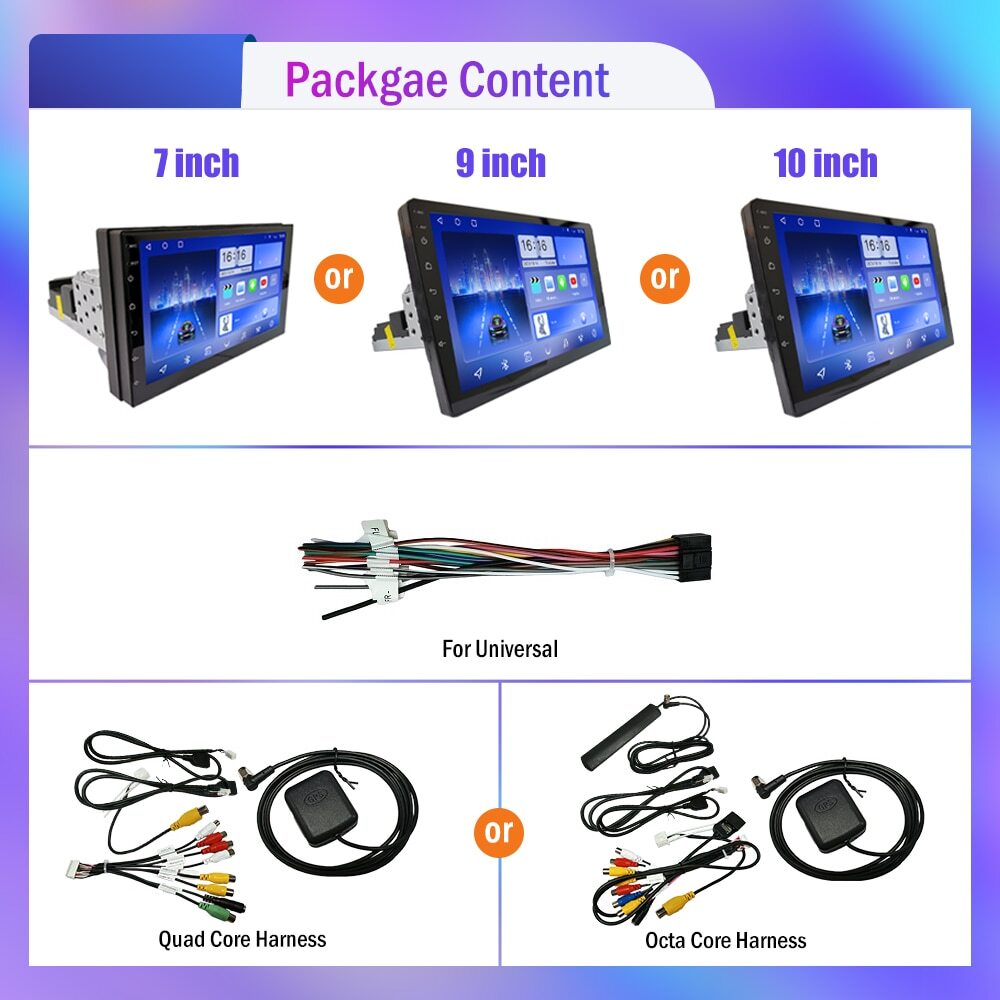 Details Images: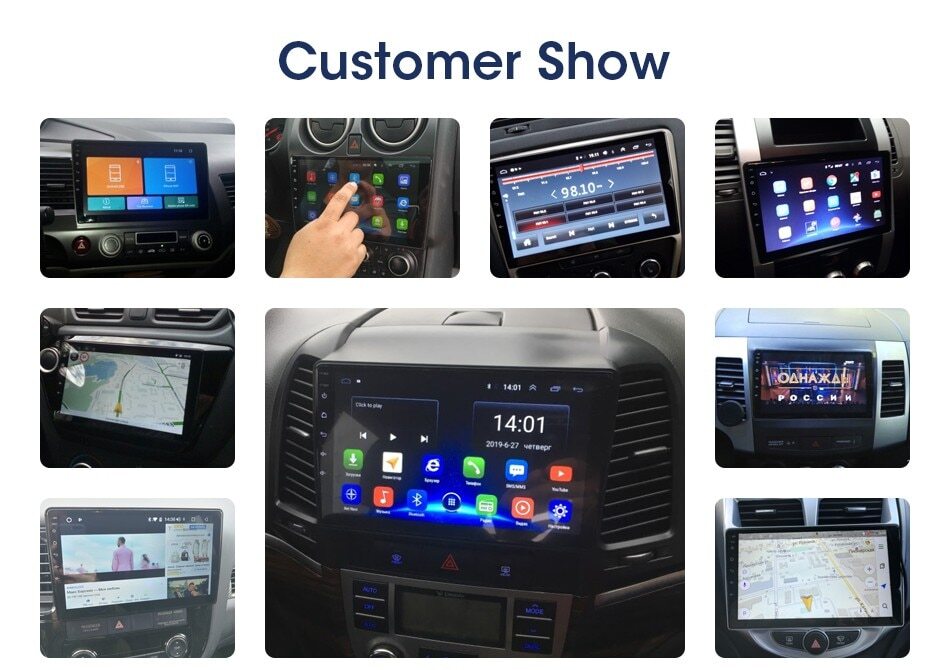 car navigation android navigation dvd player car car dvd gps
car dvd gps android radio gps navigator navigation for car dvd navigation audi navigation radio navigation
dvd player for car android car dvd player car radio navigation car gps dvd player car dvd player gps car dvd navigation audi tt navigation
navigation audi android car navigation dvd gps car car dvd player android car dvd player gps navigation radio dvd gps car dvd gps player
car stereo navigation dvd car navigation radio dvd player dvd player android android car dvd gps dvd player gps bluetooth dvd player
car radio dvd player car dvd player audi car dvd gps navigation dvd gps android car android navigation car stereo dvd players stereo dvd gps
car stereo gps navigation android dvd dvd player gps navion gps dvd player car radio dvd gps car dvd player bluetooth audi dvd navigation
gps navigator dvyer bluetooth car dvd player dvd gps bluetooth car dvd gps player radio